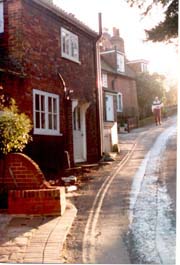 The earliest evidence of human habitation, in Hamble is to be found on Hamble Common, an SSSI looked after by the excellent Eastleigh Countryside Service. A bank and ditch traverse the site, indicating the prescence of an Iron Age settlement. Situated at a strategic point along Southampton Water, the common has always had a crucial role in the defence of the realm. Along a short stretch of beach, can be found, the foundations of, Henry VIII's St Andrews castle, a Napoleonic gun battery of the 1800's, and a Bofors gun emplacement from World War two.
Hamble-Le-Rice, in common with other villages along the river, have a history of shipbuilding, oak from the Forest of Bere, which covered a great swathe of southern Hampshire, was a big factor in the establishment of so many shipyards. Fishing and oyster dredging, were also major industries locally. The skeletal remains of many crab boats, can be seen at low tide, left to rot, when the crabbing industry failed. Aircraft have been made in Hamble, almost since their inception. Aerostructures, previously, Bae, Follands, AV Roe and Fairey, once had the largest opening door in the world, which allowed the giant seaplanes, to emerge onto the company's private slipway, and onto Southampton Water. These days the factory makes parts for many major aircraft builders, such as Boeing and Bae. The worlds airline pilots were also once trained on the airfield, now disused.
BP Oil have a small terminal, taking oil from tankers, Fawley and the Wytch Farm oil field in Dorset, via pipeline. Above all these days Hamble is a great place for a stroll, a pint, or a cream tea.