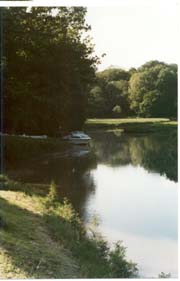 Lying at the head of Curbridge Creek, (River Cur to some), the village consists of a few cottages, Fairthorne Manor (YMCA), and in my biased opinion, the very best pub in Hampshire ! The Horse and Jockey sits invitingly on the banks of the creek, where a rickety landing stage permits access to the pub and its garden, for canoeists, and brave OR Foolhardy skippers of small motorcruisers. I being the latter, marvelled at the flying fish, as my propeller ploughed a furrow out of the creek on a falling tide!
Backing the pub, is a mini mirror image of Manor Farm Country Park, in the form of Curbridge Nature Reserve, a pretty wooded walk bounding the serpentine creek, and main river itself.
Early in the last century, drinkers at the pub could have been forgiven for thinking they'd had one too many! Alledgedly a disorientated whale, made its way up river, to become stuck under the road bridge, alongside The Horse and Jockey. Sadly it ceased to be, and the carcass became a local tourist attraction for many a year.
In short Curbridge, although off the route of my main walk , is well worth a visit for it;s pretty environs and jolly good pub!